Raoul Peck's movie "Lumumba" a discussion by D'Lynn Waldron of the movie, Patrice Lumumba, and the Independence of the Congo from Belgium.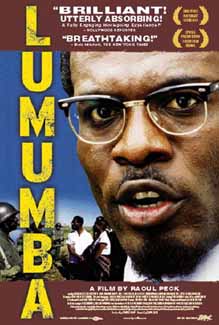 LUMUMBA, a biographic movie by Raoul Peck.
Discussed by D'Lynn Waldron, PhD

The movie Lumumba is a fast paced, powerful, homage to the martyred African leader Patrice Lumumba, which tells his tragic personal story with shocking realism.

Raoul Peck devoted ten years to creating this movie which is focused on Lumumba the person, rather than detailing the complex economic and political factors that caused the disaster in the Congo and were the reasons for Lumumba's assassination.

The two hour constraint of a theatrical movie forced Peck to edit his movie down to just the times between when Lumumba began actively campaigning for Independence, through the Brussels Conference that set the date for Independence, and then between Lumumba's election as Prime Minister, through his assassination.

This film is very much Lumumba's personal story and after the movie, some members of the audience who were not familiar with the history of the Congo gathered around me for more background.

I was particularly concerned that they understand it was well known before independence that the Belgian government and foreign economic interests were fomenting chaos from which they could take back the mineral rich areas of Katanga and the Kasai, while abandoning the unprofitable remainder of the Congo.

I was very pleased the movie made it clear that the West labeled Lumumba a 'communist' and a 'puppet of Russia' as an excuse to destroy him, because he was the one person who could have held the Congo together and prevented the foreign interests from taking back Katanga and the Kasai.

Mr. Peck makes a point of the fact that Lumumba was not a communist and feared Russia. I know this was so because I was with Lumumba in his living room in Stanleyville when Lumumba got the telegram that said that Gizenga, instead of staying in Accra for training with Nkruma's people, had been taken straight from the airport in an Aeroflot plane to Moscow. Lumumba was terrified by this and said to me, "The Russians will use Gizenga as my Judas." (However, Gizenga's subsequent life indicates that the Russians would have found him as dedicated to the Congo and as difficult to dictate to as Lumumba. (See the e-mail about their family's travails written to me by Dorothee Gizena in July 30, 2003.)

The one scene in the movie with which I would quibble is an imaginary one in which Lumumba tells Kasavubu that he must bring in Russian troops to restore order because everyone else has betrayed him, including America and the UN. Indeed everyone had betrayed him, but Lumumba had only threatened to bring in Russian troops in order to force Eisenhower to send the American troops which Lumumba had repeatedly requested.

Lumumba's only interest was the good of the Congo, for which there had to be a united Congo. Therefore, the West, the Russians, and the politicians with tribal areas they wanted to break away, all wanted Lumumba dead.

The actor who plays Lumumba, Eriq Ebouaney, does an excellent job of showing Lumumba's humanity and lack of guile. Physically, the Lumumba I knew was much taller, thinner and younger-looking.

Lumumba had the manner of a schoolteacher rather than a politician, and though he could be upset by the very upsetting circumstances around him, his natural turn of mind was scholarly and dispassionately analytical, as one can tell by reading his writings.

All of the Congolese politicians are played by actors who look remarkably like them. However, I knew several of the whites and they did not look like the fat, florid, middle-aged and older, actors who play them. Unlike that, the real Frank Carlucci (later US Secretary of Defense) was a 29-year-old, lean, handsome young Italian-American, who was Lumumba's "friend" and one of the engineers of his downfall. I feel that using young, cleancut white actors where appropriate would have made the evil they were capable of more shocking.

Mr. Peck has said that his aim was to use the tragedy of Lumumba as a case study of a tragedy being repeated all over the world in countries that are struggling for democratic government and economic sovereignty. Charismatic, idealistic leaders like Lumumba are displaced by schemers after personal power and profit who are often supported by outside interests which pay them handsomely to allow their country to be economically exploited and environmentally ravaged.

Had Lumumba been willing to compromise his ideals and his country, he could have been a dictator for decades and become the billionaire puppet of foreign economic interests, as Mobutu did. Instead Lumumba chose martyrdom.

I congratulate Mr. Peck and thank him for the decade of devotion he has put into bringing Lumumba's story to the screen. I hope the DVD will include the very articulate Mr. Peck's commentary and remarks, plus additional historical materials.

For more information on the film and where it can be seen, go to the Zeitgeist Web site: http://www.zeitgeistfilm.com/current/lumumba/lumumba.html
For those who would like to read a brief history of the Congo, I highly recommend the excellent concise summary by the military historian, Dr. Robert Craig Johnson, which can be found at http://worldatwar.net/chandelle/v2/v2n3/congo.html

For those who want to know the details of the Belgian government complicity in the assassination Lumumba, there is a new book by Ludo De Witt, "The Assassination of Lumumba" published by Verso in English in America, Canada and the UK in August 2001. 224 pages (in painfully small type), illustrated, hardback $27. ISBN 1 85984 618 1 Web site: http://www.versobooks.com/books/cdef/de_witte_lumumba.shtml
For the first time, De Witt was able to look at long secret Belgian Government documents, and some of the Belgians who had participated the murder of Lumumba, now old men unburdened their consciences to De Witt.
De Witt's book forced the Belgian Parliament to open an investigation into the assassination of Lumumba, after forty years!
I have a detailed discussion of de Witt's book on another page of my Web site at http://www.dlynnwaldron.com/deWittLumumba.html
CONTENTS PAGE: LUMUMBA, THE CONGO, AND ALL OF AFRICA

Articles and Commentaries by D'Lynn Waldron ©1960-2006


Lumumba, the assassinated first Prime Minister of the Congo

Below are links to pages containing D'Lynn Waldron's newspaper headline stories, photographs, and the related documents from 1960, with commentaries by D'Lynn Waldron written in after 2000. The subjects covered with original documents on this web site include: Lumumba in Stanleyville and his real attitude towards America and Russia, the secret cannibal war in the Kasai fostered by the Belgian government to sabotage the upcoming independence, which D'Lynn Waldron exposed, and D'Lynn's escape from the South African secret police with the data on the real cost of mining gold

NOTE: MANY OF THESE PAGES HAVE FULL SIZE DOCUMENTS AND MAY TAKE TIME TO LOAD.

THE CONGO & AFRICA
articles and commentaries by D'Lynn Waldron ©2006
NOTE: MANY OF THESE PAGES CONTAIN FULL SIZE DOCUMENTS AND ARE VERY LARGE. IF YOU ARE ON BROADBAND THIS WILL NOT BE A PROBLEM, BUT IF YOU ARE ON A DIAL-UP MODEM, SOME PAGES WILL TAKE A MINUTE OR MORE TO LOAD.

Lumumba, the assassinated first Prime Minister of the Congo.

........Lumumba in Stanleyville- D 'Lynn Waldron's 1960 headline story
........D'Lynn Waldron's commentary on this written in 2001
........Lumumba's telegram regarding troops being brought in, etc.
........D'Lynn Waldron's commentary on her time in the Congo written in 2001
........Lumumba's typed statements on his policies for the Congo with D'Lynn Waldron's handwritten questions
........Patrice Lumumba's statements on his policies for the Congo in D'Lynn Waldron's handwritten interview notes
........Lumumba's statements about the Belgian Admin and General Janssens in Stanleyville (document is a VERY large file!)
........Cable with Lumumba's statements sent by D'Lynn Waldron and not published by Scripps-Howard Newspapers
........Messages carried between Lumumba and General Janssens by D'Lynn Waldron with Lumumba's handwritten comments
.......D'Lynn Waldron's report on conflict between General Jannsens and Patrice Lumumba
.......Refusals of Belgian Administration to transmit D'Lynn Waldron's press cables about Lumumba
.......TIME Magazine's slanders of Patrice Lumumba May 1960
......D'Lynn Waldron's cable to American Consulate in Uganda about hitch hiking out of Congo through Ruanda Urundi
........A GALLERY OF PICTURES OF PATRICE LUMUMBA
........Response to a reader asking why Lumumba was assassinated
.......Raoul Peck's movie "Lumumba" a discussion by D'Lynn Waldron
.......Ludo De Witt's book "The Assassination of Lumumba" a brief review by D'Lynn Waldron
.......E-Mail with historical data concerning her father and family from Dorothee Gizenga
THE TRIBAL WAR IN THE KASAI.
.........The Tribal War In Luluabourg- D'Lynn Waldron's 1960 headline story
.........Kasai section of D'Lynn Waldron's book "Secret in the Heart of Darkness"
........Henry N. Taylor killed filling in for D'Lynn Waldron in Luluabourg the Congo
........Journeys on the Congo and Kasa i Rivers
D'LYNN WALDRON'S ESCAPE FROM SOUTH AFRICA