Refusals of Belgian Administration to transmit D'Lynn Waldron's press cables regarding Patrice Lumumba, the assassinated first Prime Minister of the Congo.
Documents from the archives of D'Lynn Waldron, Scripps-Howard foreign correspondent in the Belgian Congo, who was confided in by Patrice Lumumba just prior to Independence.
Refusals by the various offices of Post and Telegraph in the Belgian Congo to transmit D'Lynn Waldron's cables about the war in Luluabourg and about Lumumba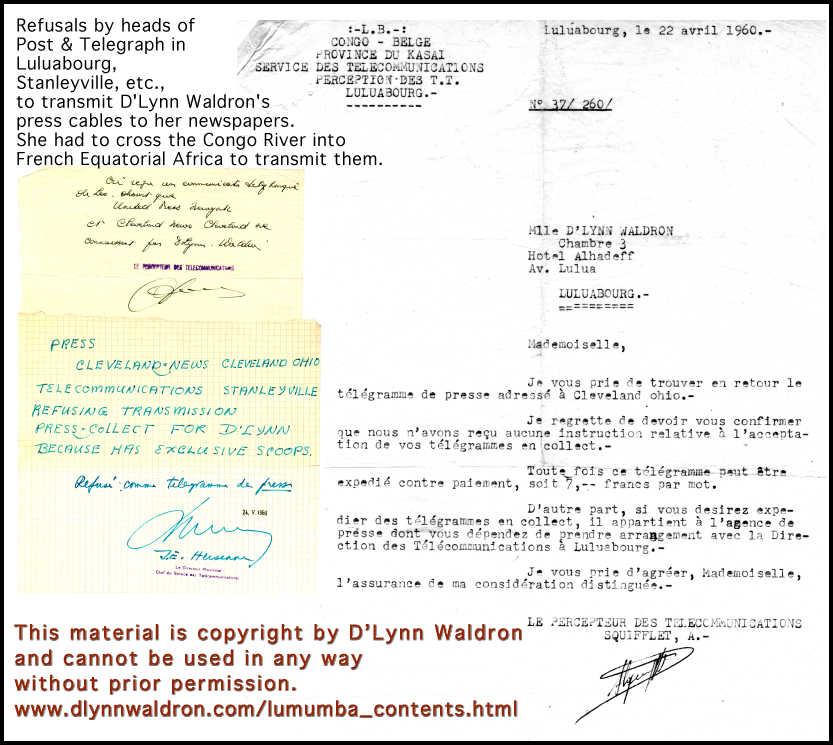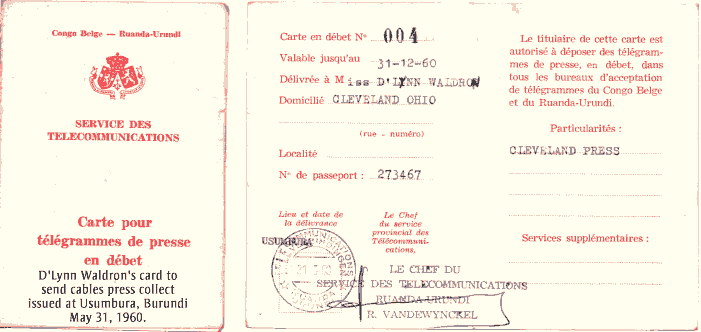 PATRICE LUMUMBA, THE CONGO, AND ALL OF AFRICA: CONTENTS
articles and commentaries by D'Lynn Waldron DR D'LYNN WALDRON AUTHOR PAGE
Lumumba, the assassinated first Prime Minister of the Congo.
D'Lynn Waldron's newspaper headline stories and photographs, plus related documents from 1960, with a commentary by D'Lynn Waldron written in 2001. The subjects covered on this web site include Lumumba in Stanleyville and his real attitude towards America and Russia, and the secret cannibal war in the Kasai fostered by the Belgian government to sabotage the upcoming independence, which D'Lynn Waldron exposed.
PART 1- LUMUMBA IN STANLEYVILLE AT THE TIME OF THE ELECTIONS
D'Lynn Waldron was the only correspondent in Stanleyville and her newspaper stories contain both historically accurate information as written by D'Lynn Waldron, and also the disinformation put in by the newspaper publisher back in America. Her 2001 commentary points out the disinformation.