N17 TERRORIST ORGANIZATION IN GREECE (aka 17N and 17 November)
article with personal experiences by D'Lynn Waldron, PhD, FRGS copyright 20015
N17 TERRORIST THREAT IN 2015
A member of the N 17 terrorist organization, Christodoulos Xiros, now 57, was sentenced in 2003, to six life sentences in Athen's security prison Korydallos, for his involvement in N 17's bombings and assassinations.

In a period of 13 months up to January 2014, Xiros was given seven home leaves from prison. He absconded from his January 2014 leave and was a fugitive until his capture January 3, 2015.

In a video in 2014, Xiros threatened an armed campaign against the members of the Greek Government, the German Prime Minister, and the World Bank, in response to the drastic austerity imposed on the Greek people by the terms of the IMF-EU bailout which was necessitated by the banking debacle of 2008, caused by the greed, mismanagement and crimes of politicians and bankers.

During his year of freedom, Xiros assembled a large arsenal of weapons and explosives in a safe house just outside Athens. Plans were found there for an assault in January 2015 on the top security prison Korydallos, to free his fellow N 17 terrorists.

When he was captured without a fight on January 3, 2015, Xiros had grown a beard and his hair was long an bleached blond.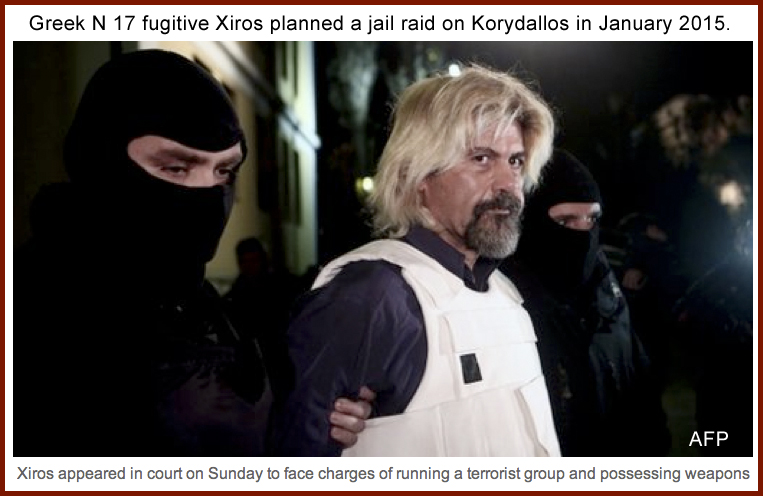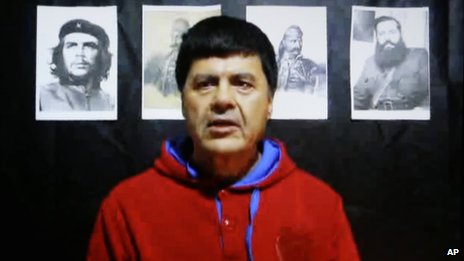 Xiros appears in his 2014 video in front of images of Che Guevara, two heroes of Greece's revolutionary war against Turkey and a Greek civil war Communist guerrilla leader threatening reprisals for the austerity being suffered by the Greek People

Related BBC Stories
• Golden Dawn deputy held on remand
• Nine on trial for Athens bombings
• Greek militants jailed for life
• N17 Terrorist threatens armed action in 2014
• N17 Terrorist recaptured in January 2015

WRITTEN IN 2003 - BECOMING A POLICE STATE DOES NOT PREVENT TERRORISM - A PERSONAL EXPERIENCE IN GREECE

Police states have never been able to stop terrorists.
On the Greek Island of Crete where the author lived for 16 months in 1983-84, the quasi-police state hadn't produced a single arrest of the very active Greek anti-West revolutionary terrorist organization N17. Greece had to move against some of the low level members of N17 before the Athens Olympics after one was caught when he injured himself planting a bomb in a tourist area. On previous occasions when suspected members of N17 were apprehended they were quickly let go. This led to widespread accusations in Greece and abroad that high ranking members of the ruling PASOK left-wing (previously pro-Soviet) party and the late Prime Ministers Andreas Papandreou had had a decades-long association with N17.
SURVEILLANCE IN A QUASI-POLICE STATE BEFORE THE ELECTRONIC ERA.

Below is a summary of the methods used for total surveillance on Crete when Dr. Waldron was there in 1983-84, before the electronic surveillance now in America.

-- The police kept massive files on every household, to which neighbors had to contribute or be in trouble themselves.

-- All mail was opened on the pretext of preventing people from sending cash in or out of Greece, and the police files contained copies of every letter a household had sent or received.

-- In the police stations where Dr. Waldron was held on Crete, those files were shown to her as a form of bragging because they did not expect she would live to tell what she had seen.

-- The phone kiosks were the monopoly of veterans and their families, who monitored and controlled all communications with those phones.

-- The phones in the main post and telegraph were monitored and controlled. When the operators were instructed not to let someone make a phone call, they didn't connect it, and when they were told to stop a call, they disconnected it.

-- There were uniformed and secret police who seemed to be watching everything in the towns.

-- When Dr. Waldron asked the secret police what she had done wrong, she was told: "You have done absolutely nothing wrong. That's how we know the real professionals; they leave no clues."

During the time Dr. Waldron was in custody, the secret police tried to make her say that there was an American plot against Papandreou. Papandrou concocted this story to reestablish his anti-American credentials with the Greek electorate after he had angered them by renewing the leases on the hated American military bases and not taking Greece out of NATO (which he didn't do because of the money they brought). Dr. Waldron had to be released when the British found out she was in Korydallos when they had the Greek government up before the European Parliament for the torture death of Anne Chapman, and the only defense of Papandreou's government had was that such things were only done under the Colonels.

For details of the extent and methods of torture used in Greece see the book Torture in Greece published by Amnesty International.

DR. WALDRON'S DIAGRAMS OF SOME OF THE LOCATIONS AND LAYOUTS OF SECRET CELLS IN WHICH SHE WAS HELD, WHERE THE GREEK POLICE INTERROGATE AND TORTURE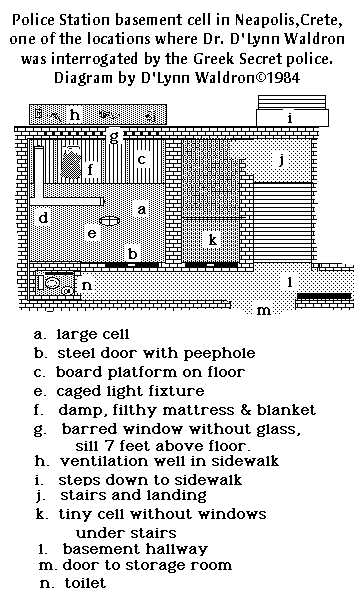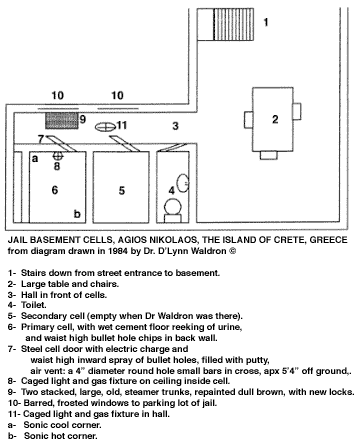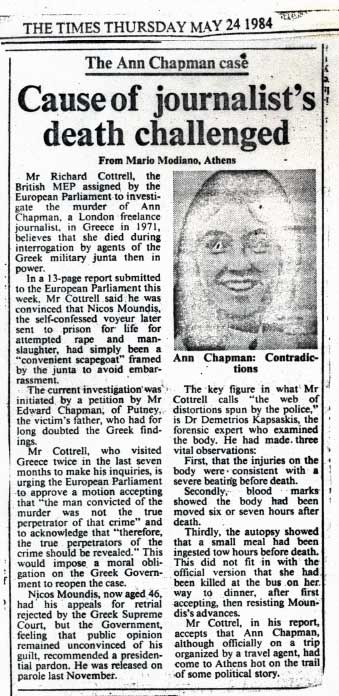 The best article on the history of 17N as known prior to 2002 is on the Jane's Security Web Site..... http://newsite.janes.com/security/international_security/news/jir/jir000609_1_n.shtmland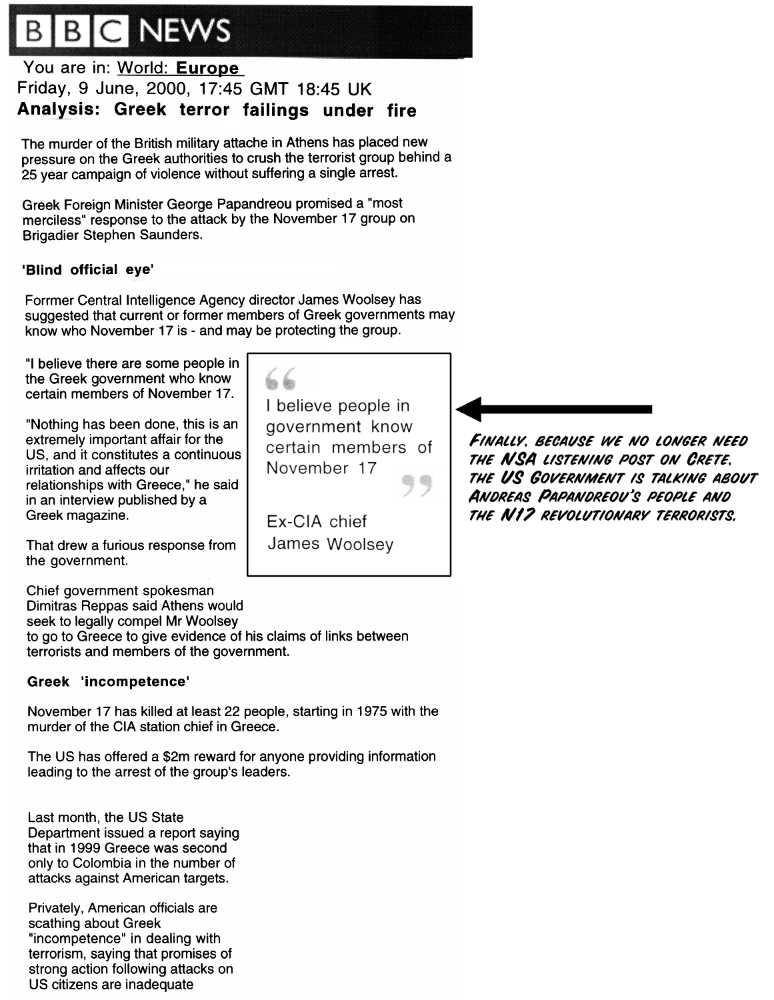 CLICK FOR AN OUTLINE OF ALL THE DOCUMENTS ON D'LYNN WALDRON'S SITE