AGE-PROGRESSED & AGE-REGRESSED PORTRAITS & ANIMATIONS.
and WHAT A COUPLE'S BABY MIGHT LOOK LIKE.
by Dr. D'Lynn Waldron ©2012
"My portraits do not predict the future, but only show what it might be in certain circumstances.
With modern cosmetic and medical intervention, some of my portraits are like the 'Picture of Dorian Gray',
showing things that the world will never see."
D'Lynn Waldron's digitally painted portraits are featured around the world.
Click for Answers to Frequently Asked Questions.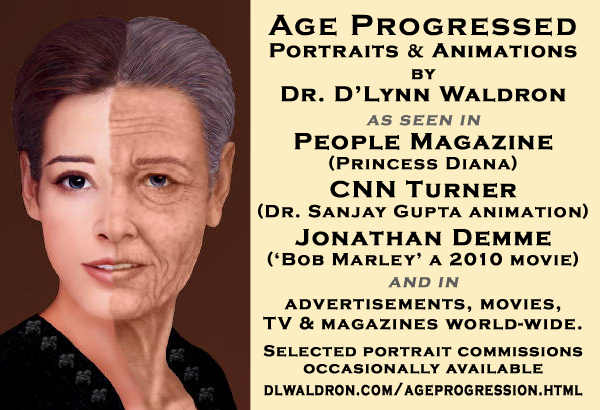 CLICK TO SEE AN ANIMATION OF A MAN AGING FROM TWENTY TO NINETY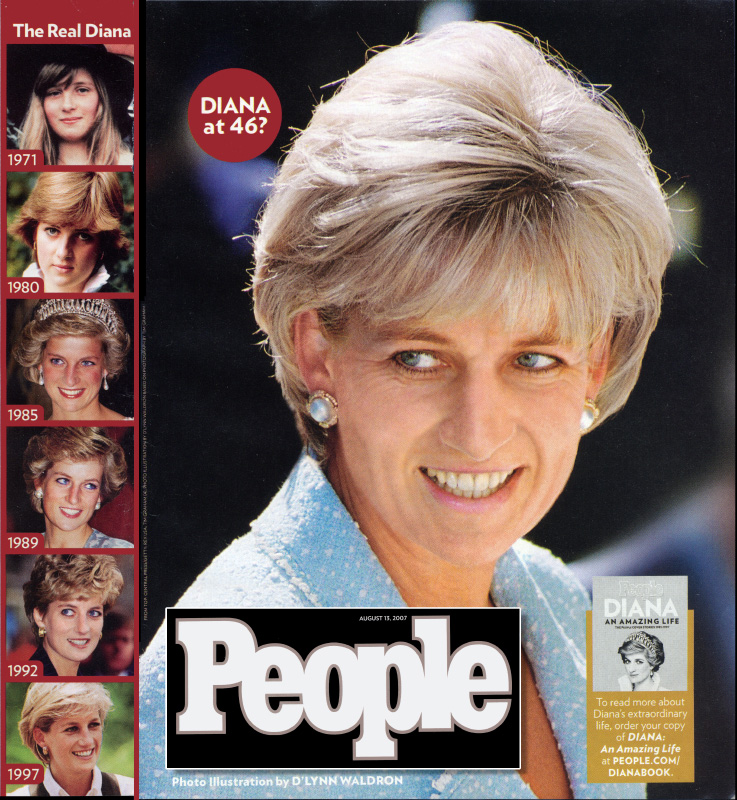 What a child of Beyonce and Jay-Z might look like. Father's features, mother's eyes.
(This copyright digitally painted portrait by D'Lynn Waldron is available in very high resolution with no caption).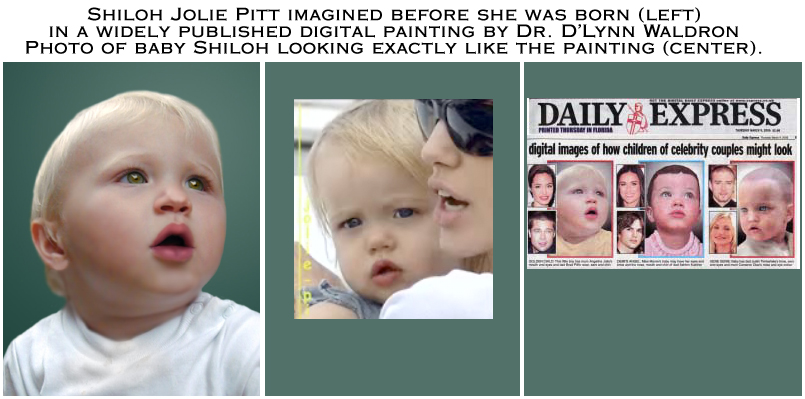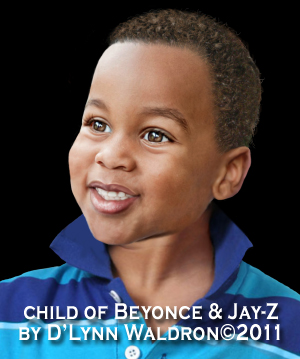 Dr. Sanjay Gupta age-progressed for a CNN Special 'Chasing Life' on aging. http://www.cnn.com/SPECIALS/2007/chasing.life/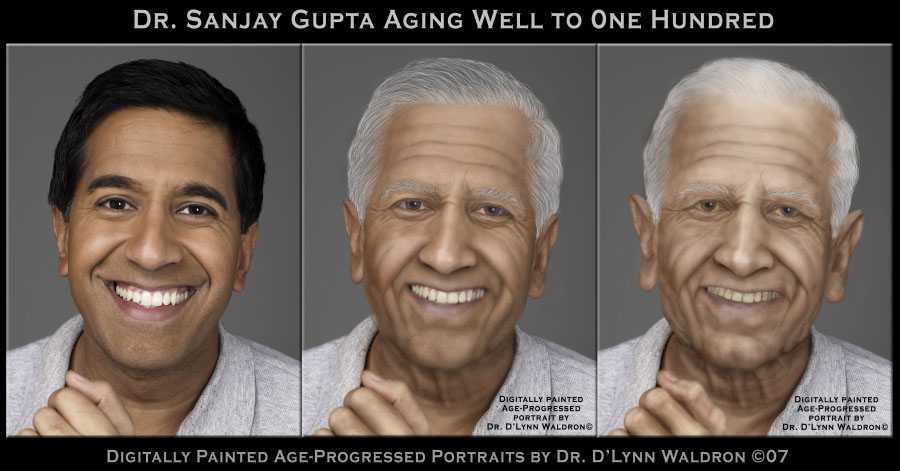 CLICK TO SEE TV RESOLUTION ANIMATION OF DR. GUPTA AGING- ARTWORK, ANIMATION AND MUSIC BY D'LYNN WALDRON

CLICK TO SEE THESE PAGES OF THE NEWSPAPERS' WEB VERSION AT FULL RESOLUTION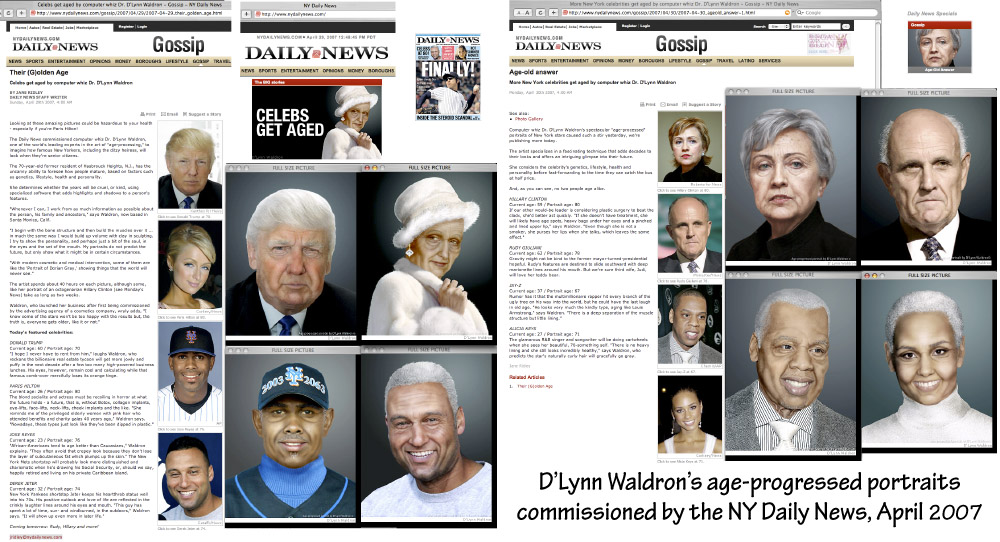 Above: An imaginary portrait the baby that Steffi Graff and Andre Agassi might have, commissioned by German Sat 1 TV in 2000, which looked almost exactly like the actual baby born years later.
CLICK TO SEE THIS WOMAN AGING IN ANIMATION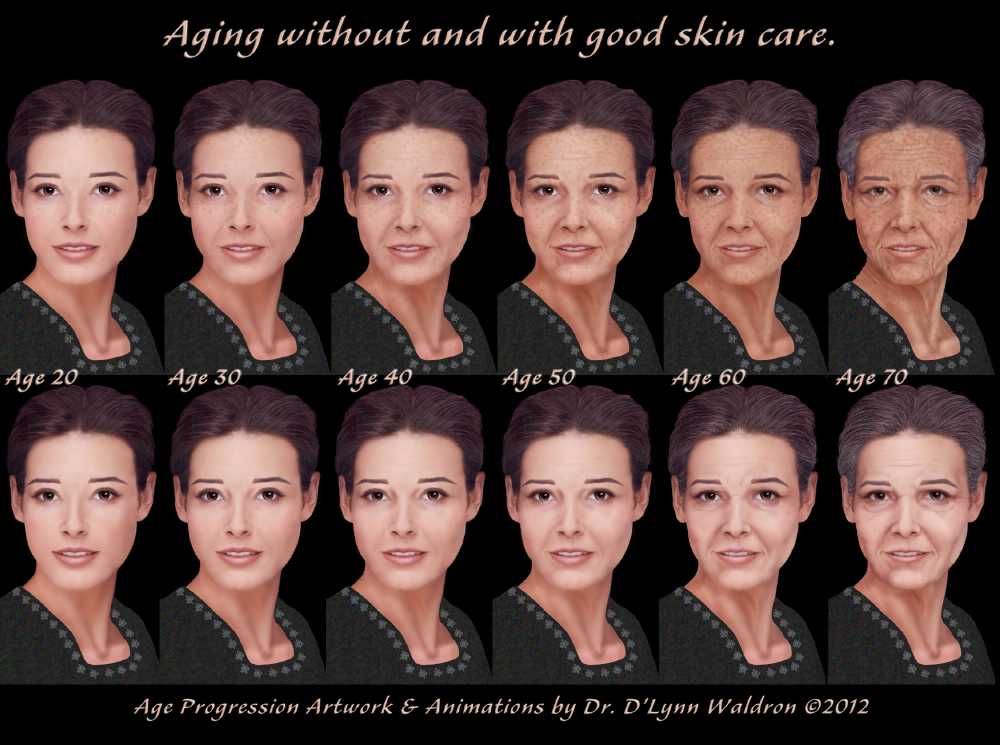 Original artwork illustrating aging with and without proper skin care. Commisioned by a cosmetics company for print and animated TV advertising worldwide.

James 'Whitey' Bulger ~ America's Most Wanted.
Age-progressed to 76-years-old by Dr. D'Lynn Waldron as part of the work on the fugitive search for which she was hired as a consultant by the FBI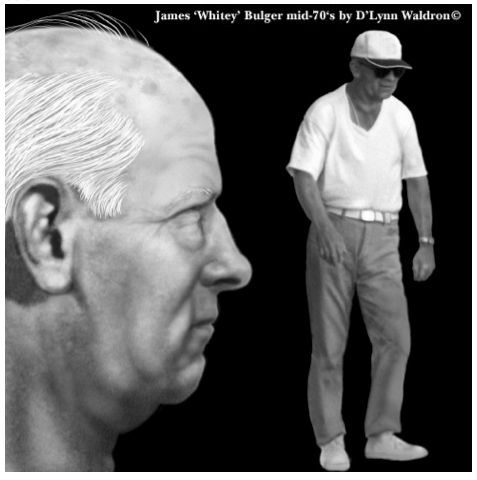 WhiteyBulgerCaptured.html
CEDELLA MARLEY BOOKER AT 19. No photos exist of Cedella, the mother of Bob Marley, in her teens when he was born.
D'Lynn Waldron did this age-regressed digitally hand-painted portrait for Jonathan Demme's 2009 movie on the life of Bob Marley.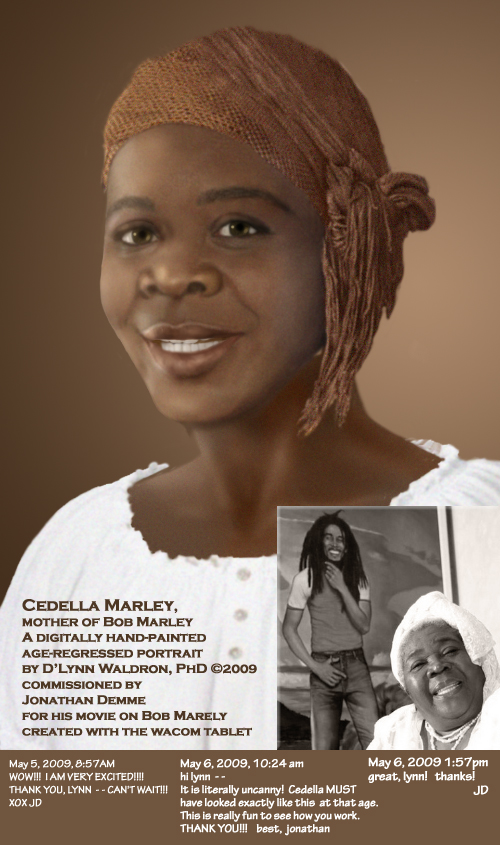 This portrait also appeared in the 2012 movie Marley directed by Kevin Macdonald & produced by Ziggy Marley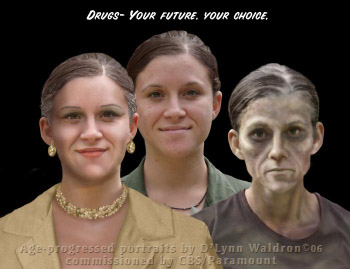 Age progressed portraits showing a teen-ager's future with and without meth addiction. Commissioned by CBS/Paramount.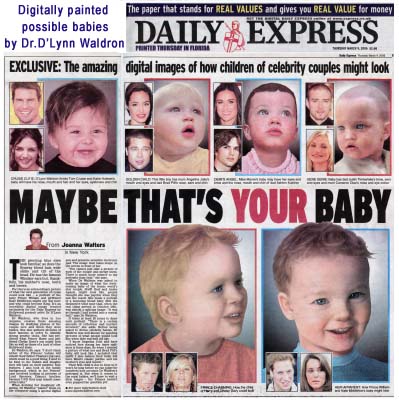 .....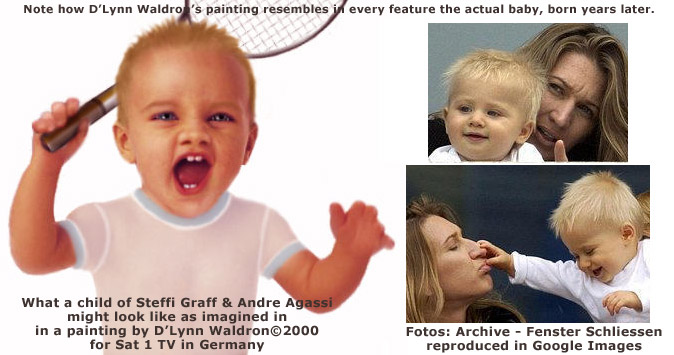 Frequently asked questions about the work I do
1)
There is no software that will age-progress a photo into either a scientifically accurate or artistically realistic portrait.
Forsenic portraits are usually made using a digital morphing process. I do not use that process in any way
2)
I am a conventionally trained portrait artist with my first book illustrations published in 1958 by Harper Bros. books
For over 25 years, I have been painting digitally as an addition to traditional media.
3)
For digital painting I use a large Wacom tablet with pressure sensitive stylus, a very large Apple monitor, a Mac computer, and Photoshop.
My morps for movies and television are created by cross-dissolving between separate age-progressed digitally painted portraits.
4)
I am separately a successful photographer, and I create combined photo-digital artwork, which is very often used in advertising.
I use Canon DSLR cameras and a suite of Canon lenses. My beloved portrait lens is the 85mm f1.8 prime.
5)
My age-progressed and age-regressed portraits are digitally painted artwork forensically based on all available source materials, including genetics, lifestyle, medical history, personality, environment, and how gravity effects their type of face.
NOTE:
My Whitey Bulger work for the FBI, in addition to the age progressed portrait, included a complete analysis of everything they had on his and his girlfriend's history, health and life style, including personal home Polaroids showing what they collected, his military records and writing, and the surveillance tapes from which I determined he had scoliosis.
This analysis and how to use it was eventually used to capture him, living the whole time only a few blocks from me in Santa Monica (with a $2 million dollar reward I missed getting!).
http://dlwaldron.com/WhiteyBulgerCaptured.html
6)
Since 1984, have been a pioneering developer of digital hardware and software for art, publishing, the Web and then movies.
http://dlwaldron.com/ComputerArtCont.html
NOTE:
I 'debugged' the first Wacom tablet driver and had the first 24-bit board from Raster-Ops and with these I did the first pressure-sensitive digital painting, which caused a sensation at MacWorld.
http://dlwaldron.com/ComputerArtCont.html
7)
I appreciate people's interest in my work, but I do not have time to take private commissions.