BONOBOS ARE MUCH NEARER TO HUMANS THAN CHIMPANZEES
BONOBOS CAN WALK UPRIGHT IN A VERY HUMAN WAY. BONOBOS MAKE LOVE NOT WAR INCLUDING IN THE FACE TO FACE POSITION FOR WHICH ONLY HUMANS AND BONOBOS ARE PHYSICALLY DESIGNED.

As a 23-year-old investigative foreign correspondent, D'Lynn Waldron was with Dr. George Pournelle of the San Diego Zoo on the Congo expedition in 1960 that rescued the bonobo Kakowet in the chaos and violence at the time of the Congo's ill-fated independence. Kakowet, along with Linda, are the progenitors of the San Diego Zoo's famed bonobo colony. Linda's ten children and their descendents are in colonies in America and Antwerp. Belgium. The San Diego bonobos are divided between the Bonobo Road exhibit in the zoo and the San Diego Wild Animal Park, where they can be seen from the monorail. Linda is now a matriarch in the Milwaukee Zoo fostering baby bonobos.

Elderly Linda
FOR A GALLERY OF BONOBO PHOTOS BY MARIAN BRICKNER CLICK HERE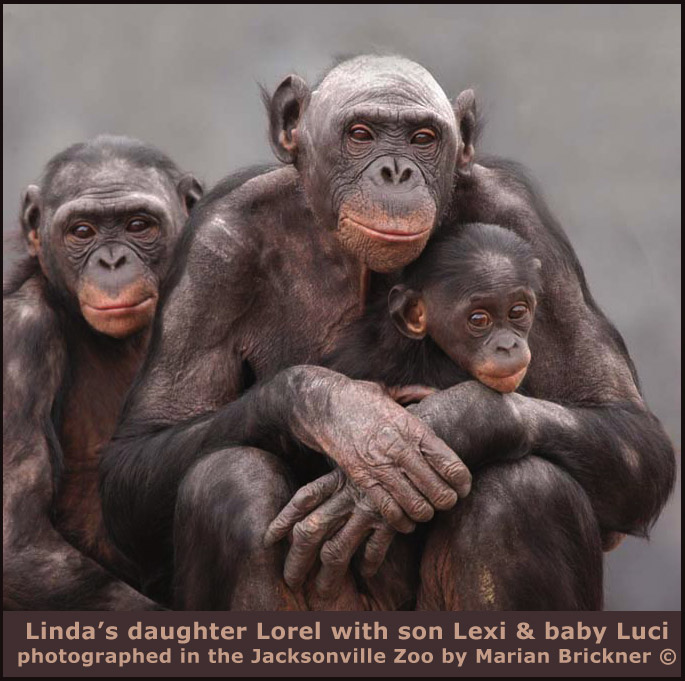 PHOTOGRAPHER: Marian Brickner <insect1@swbell.net> Marian is now publishing a book on Bonobos that will have her marvelous photographs
PBS NOVA PROGRAM ON BONOBOS http://www.pbs.org/wgbh/nova/bonobos/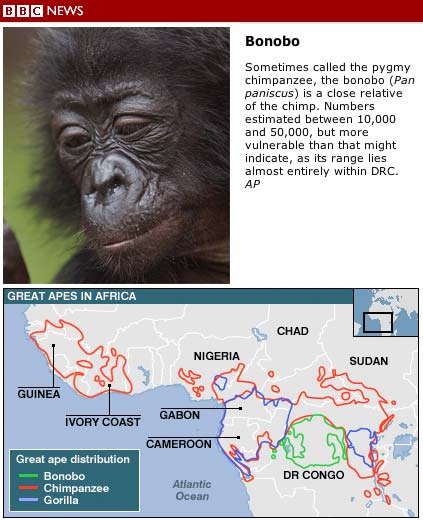 Excerpt below the photos is an excerpt BONOBOS: SEX, AND THE GENETICS OF VIOLENCE describing a documentary created by the heroine of the witty, romantic novel "ARIANE" by D'Lynn Waldron, PhD c. 2005
BIBLIOGRAPHY ON BONOBOS xxxx BONOBO WEB LINKS
FRANS DE WAAL BONOBO PHOTO GALLERY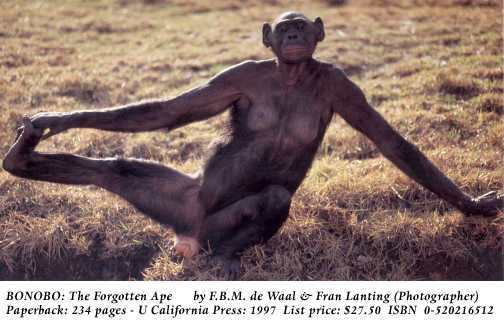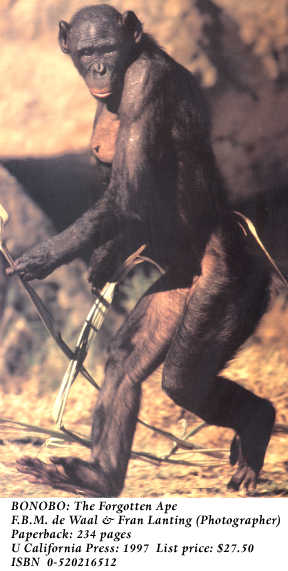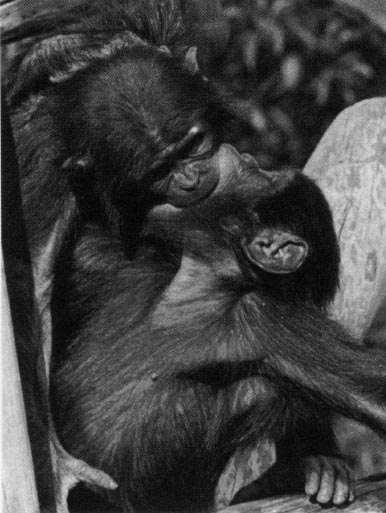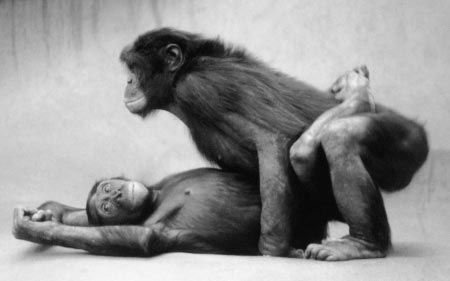 Dear Dr Waldron,

I was interested to recently read your website on bonobos, but I also noticed a couple of critical errors that you may like to amend and other points that you may like to consider.

1. BONOBOS CAN WALK UPRIGHT IN A VERY HUMAN WAY. BONOBOS MAKE LOVE NOT WAR INCLUDING IN THE FACE TO FACE POSITION FOR WHICH ONLY HUMANS AND BONOBOS ARE PHYSICALLY DESIGNED.

Orangutans can, and do, also walk upright in a very human way (I suppose it might depend on exactly what you mean by that). Orangutans also mate in a face to face position, and are perhaps more like humans in that respect in that the majority of their positions for heterosexual encounters are face to face while it is only about 30% for bonobos.

1. "Unlike other primates, humans and bonobos have separated sex from its reproductive function, and use it as a medium of exchange.

Orangutans also separate sex from its reproductive function in that they will engage in sex just for the sake of it and there is some suggestion that it is used as part of the establishment of long term affiliate relationships by adolescent females and sub adult males.

2. Like human females, the genitalia of female bonobos are in the front, for face to face copulation, which makes humans and bonobos unique among the primates."

I don't have comparative information on orangutan genitalia, but it certainly allows for face-to-face mating, and one primate biologist has suggested that juvenile female orangutan genitalia are structurally more like humans than any other primate (whereas bonobo genitalia are structurally different).

3. "In common only with humans, bonobo females are always receptive to sex, not just when they are in estrus. All other primate females are receptive for just a few days a month, and only if they are not pregnant or nursing."

My understanding of human females is that they are not always receptive to sex, although they can be. In that respect orangutans are very like human females. Orangutan females will mate during pregnancy.

4. "Among all other primates, alpha males try to monopolize access to the females by subjugating, driving off, or murdering rival males.

Not true of orangutans. They have a somewhat complicated relationship between dominant males and between dominant and non-dominant males –sometime tolerating, sometimes not.

5. "To have their infants to survive, these females must mate with whichever male can protect them.

Orangtuans do not appear to have this problem.

6. "Like human females, bonobo females show no outward sign when they are fertile,

Bonobos are not like human females in that the period of ovulation is encompassed by an extended period of estrus swelling which does not occur in human females, or orangutan females.

7. "One reason the bonobo male's Genetic Imperative does not lead to infanticide, may be because they do not know which infants are theirs, since the females have sex with all the males."

Infanticide is also unknown in orangutans, even though males likely at least sometimes know who their infants are.

8. indicating that human females are less promiscuous than bonobos, but not as monogamous as gorillas

Overall, both chimpanzees and bonobos appear to be more promiscuous than either humans or orangutans.

9. Is it in our genes, or is it because females manage bonobo society, while males run all other primate societies."

It is not so simple for orangtuan society where female choice seems to play a large role in relatinships with males, and the identify of power is continent and fluctuating. I've seen artificial zoo situations of a male with a female and their offspring, and there is no doubt who is boss – the female.

I hope you find thse points of interest.

Sincerely,
John Grehan

Dr. John R. Grehan
Director of Science and Collections
Buffalo Museum of Science
1020 Humboldt Parkway
Buffalo, NY 14211-1193
email: jgrehan@sciencebuff.org
Phone: (716) 896-5200 ext 372

Panbiogeography
http://www.sciencebuff.org/biogeography_and_evolutionary_biology.php
Ghost moth research
http://www.sciencebuff.org/systematics_and_evolution_of_hepialdiae.php
Human evolution and the great apes
http://www.sciencebuff.org/human_origin_and_the_great_apes.php

Chimps have the marvelous Dr. Jane Goodall to publicize their cause. The far more endangered bonobos do not have a popular human to plead for them. Below are some web links

BONOBO WEB SITE www.bonobo.org/home.html
Frans B. M. de Waal article in the March 1995 SCIENTIFIC AMERICAN http://songweaver.com/info/bonobos.html
BIBLIOGRAPHIC SEARCH SOURCE http://bonobo.dynamicapps.com
ARTICLE: Bonobo: Messenger of Peace, Victim of War www.awionline.org/pubs/Quarterly/Spring02/bonobo.htm
PETER GABRIEL JAMMING WITH BONOBOS http://pulse.towerrecords.com/contentStory.asp?contentId=5679
http://williamcalvin.com/portraits/
http://williamcalvin.com/teaching/bonobo.htm
http://www.bbc.co.uk/nature/animals/features/325chimp2.shtml
http://news.bbc.co.uk/2/hi/science/nature/4080807.stm
http://www.pnews.org/PhpWiki/index.php/EvolutionaryWrongTurn
Peter Gabriel: Renaissance rocker working with bonobos at Georgia State University.
by Bill Forman© in Tower Records Pulse July 12, 2001 http://pulse.towerrecords.com/contentStory.asp?contentId=5679
Below is an excerpt of the bonobo material from an excellent long articleon Peter Gabriel
"Play a grooming song!" says Panbanisha through her human interpreter. "I want to hear a grooming song!"

We're back at the computer in Gabriel's hotel room, watching footage of Kanzi's little sister getting ready for her big duet. "I asked her what she wanted to write about as a subject, and she said, 'Grooming,'" he explains. "These apes actually have about 4,000 English words that they're comfortable with."

Kanzi and Panbanisha are star residents of the Language Research Center in Atlanta, Ga. Yet, Sue Savage-Rumbaugh, the researcher who first tapped their potential, fears that these are likely end times for this most human-like of non-human species: "The last of the African apes to be discovered and the last to be studied scientifically in the field," she writes, "the bonobo may be the first ape species to become extinct as a result of human activity."

"Well, we've just about wiped them all out," says Gabriel, who contacted the center after learning of their activities. "I called up and asked if I could track down some music with these apes, and they said come on down. So I went down about five times. She maybe tried three times before, just playing around with the Casio keyboard. And this is, I think, probably the second session where we improvised together. I asked her to only play on the white notes because I was playing in A minor."

- Onscreen, Gabriel begins playing slow synth pads not unlike something that might appear in one of his soundtracks. Panbanisha listens and begins to pick out delicate single notes on the keyboard, like a beginningand extremely hairyBrian Eno or Erik Satie. It's stunning footage, albeit not the sort of thing that would make the cut on When Animals Attack.

"She likes this note," says Gabriel, as the ape begins repeating a note and its octave. "No one has ever told her about octaves. She finds out for herself. So she's either recognizing the pattern, or it's through what she's hearing."

All of which makes Gabriel's 1982 hit, "Shock the Monkey," seem a bit prescient. "I know a lot of people though it was anti-vivisectionist, but it wasn't," says Gabriel. "It was about jealousy." Which, as it turns out, is something else we share with the bonobo apes. "Kanzi's already had a book written about him, and he was getting sick that his sister here was getting all the attention," says Gabriel of the real impetus behind Kanzi's artistic motivations. "So he sat down at the keyboard and said, you know, basically, 'I'm gonna be great.'

"There's no question about their musicality," says Gabriel. "I mean, that was the first time he sat down at a keyboard. If you took any of us and put us down at a keyboard for the first timeOK, maybe the notes were random, but the rhythm, he's really hitting the triplets really well. So to me, it really shows without question that these apes, and probably a lot of other animals, possess a musical intelligence."

Gabriel confirms that these experiments have impacted his own world view: "Human rights is something I've been involved with, but after beginning to know some of these apes, I have to take on board some of the animal rights issues in a way that I never expected."

For Gabriel, this resonates with his own lifelong learning process, which has found him venturing ever deeper into both inner and outer realms. Up crowns a body of work that comforts as it challenges, one that suggests the way forward is through embracing our entwined personal, cultural and even evolutionary legacies.

"If you can't communicate with other cultures, you think, 'How are we gonna make this work?'" says Gabriel. "But actually, very often, once you start making noises, you find that there's a languagesome sort of emotional languagethat you can use to connect."

BOOKS ABOUT BONOBOS

BONOBO: The Forgotten Ape
F.B.M. de Waal & Fran Lanting (Photographer)
Paperback: 234 pages
U California Press: 1997 List price: $27.50
ISBN 0-520216512
The bonobos are unique in that social interactions and conflict resolution are all mediated by a wide variety of sexual acts, which occur many times a day for each individual. Bonobo females, like human females. do not give any outward sign when they are in estrus, and bonobo females solicit sex from males throughout their monthly cycle, and prefer the 'missionary position'. In common only with human females, bonobos females have large breasts, with their size unrelated to their milk-producing function.

MY FAMILY ALBUM
Frans de Waal
Hardback: 170 pages
U California Press: 2003
ISBN 0-52023615-7
A book of grayscale photos with short paragraphs, of bonobos and other primates.

DEMONIC MALES: Apes and the Origins of Human Violence
Richard Wrangham and Dale Peterson
Paperback: 350 pages
Houghton Mifflin: 1997 List price: $14.
ISBN 0-395877431
The bonobos are the only one of the Great Apes (which include humans) that do not use violence to establish male domination and to solve social and territorial conflicts. In bonobo society, males and females are co-equals, and females co-operate to prevent male violence. Unique among the Great Apes (and many other creatures) bonobo males do not commit infanticide, perhaps because it is a female controlled society, and perhaps because the males do not have exclusive access to any female and do not know when she might conceive, so any infant might be their own.

PEACEMAKING AMONG THE PRIMATES
F.B.M. de Waal
Paperback: 294 pages
Harvard U. Press: 1989 List price: $18.
ISBN 0-674-65921-X
How various primates settle conflict, with a section on the bonobos.

CHIMPANZEE POLITICS: Power and Sex Among Apes: Revised Edition
Franz de Waal
Paperback: 235 pages
Johns Hopkins U Press: 1982, 1989, 1998 List price: $17.95
ISBN 0-8018-6336-8
This landmark study reveals that our primate cousins engage in politics using many of the same tactics and strategies as humans.

KANZI: The Ape at the Brink of the Human Mind
Sue Savage-Rumbugh
Paperback: 299 pages
Wiley: 1996 List price: $15.95
ISBN 0-7115959X
The story of a bonobo raised from infancy by a human 'mother'.
KANZI LINKS
http://www.rmi.org/sitepages/pid983.php
http://www.geocities.com/RainForest/Vines/4451/SheTalks.html
http://www.bbc.co.uk/radio4/science/lifewithkanzi.shtml
http://www.npr.org/templates/story/story.php?storyId=1952976
http://williamcalvin.com/scisurf/column01.htm#kanzi

BONOBO LINKS
http://www.bonobo.org
http://www.bonobo.org/home.html
http://www.gsu.edu/~wwwlrc/
http://www.milwaukeezoo.org/rcenter/cbull/bonobo.html
http://www.sandiegozoo.org/special/zoo-featured/pygmy_chimps.html
Sally Jewell Coxe, President
Bonobo Conservation Initiative
2701 Connecticut Ave., NW #702
Washington, DC 20008
USA

Books about Sex in Evolution

THE ALCHEMY OF LOVE AND LUST: Discovering Our Sex Hormones and How They Determine Who We Love
Theresa L. Crenshaw, M.D.
Hardcover: 342 pages
Putnam1996 List price: $24.95
ISBN 0-399-14041-7
This is absolutely the best book on the subject. It covers the biochemistry, physiology and psychology in very readable, clear and comprehensive way. Putnam printed this hardback book on cheap wood pulp paper that has already turned yellow, and crumbles like an old newspaper, and Putnam no longer offers this book for sale. Please, Dr. Crenshaw, bring out an e-book edition!

ANATOMY OF LOVE: A Natural History of Mating, Marriage, and Why We Stray
Helen Fisher, PhD
Paperback: 432 pages
Fawcett 1994 List price $12.50
ISBN 0-449-90897-6
This well-written book looks at the subject from the point of view of physiology and evolutionary psychology.

THE MATING MIND: How Sexual Choice Shaped the Evolution of Human Nature
Goeffrey F Miller, PhD
Hardcover: 503 pages
Doubleday 2000 List price: $27.50
ISBN 0-385-49516-1
The suppressed half of Darwin's theory of evolution which says women's aesthetic preferences in men shaped the evolution of human intelligence and creativity.

THE DANGEROUS PASSION: Why Jealousy is as Necessary as Love and Sex
David M. Buss, PhD
Paperback: 258 pages
The Free Press 2000 List price: $25
ISBN 0-684-485081-8
The many manifestations of jealousy and how they serve evolution and getting one's genes into the next generation.

THE EVOLUTION OF DESIRE: Strategies of Human Mating
David M. Buss, PhD
Hardcover: 262 pages
Basic Books 1994 List price: $16
ISBN 0-465-402143-3
The differences between the mating strategies of men and women, and how these strategies are carried out in casual and committed sex.

DR TATIANA'S SEX ADVICE TO ALL CREATION: The Definitive Guide to the Evolutionary Biology of Sex
Olivia Judson, DPhil, Oxford
Hardcover: 309 pages
Henry Holt: Metropolitan Books 200 List price: $24
ISBN 0-8050-6331-5
A scientifically sound, absolutely delightful book in which creatures of all kinds write 'Dear Abby' questions about problems in their sex lives, and get replies that explain the evolution and function of their mating behavior, along with amazing 'believe it or not' facts about the sex lives of other species, A great way to learn about the evolutionary biology of sexual behavior, with some very interesting insights to human mating strategies. www.drtatiana.com




SITE COPYRIGHT BY DR. D'LYNN WALDRON 2007