JAMES NEWTON-HOWARD COMPOSER OF MUSIC FOR THE MOVIES: BIOGRAPHY, PHOTOS, FILMOGRAPHY AND DISCOGRAPHY by D'Lynn Waldron,PhD ©2006
PHOTO: James Newton-Howard by D'Lynn Waldron,PhD ©2002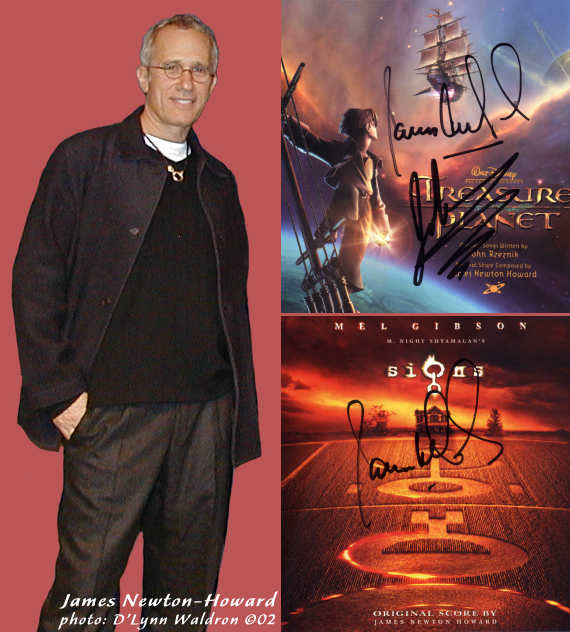 A PERSONAL REFLECTION ON JAMES NEWTON-HOWARD
James Newton-Howard is a very pleasant man with an aura relaxed competence. He is someone you would like to work with and who you would trust to do a really good job.

James Newton-Howard is a devotee of computer technology and uses it to compose, to create demos and to write his notation for the live musicians "a pencil gives my hand a cramp". Back in the early days of the technology, he created for Yamaha the first demonstration pieces with their innovative keyboard.

His own studio is not the usual jumble of equipment in a snakepit of cables, but a beautiful setting in which to work. (see photos below)

"I had written a lot of instrumental music, but until you become a film composer, you don't know what the word 'productive' means. You work 60 or 70 hours a week to create six or seven minutes of music. It's a whole new ballgame."

He starts every day full of confidence and by the end of the day he feels discouraged because the expectations are so daunting. "Fear is always a companion and a necessity".

Newton-Howard's movie scores have successfully encompassed every genre, but he is probably best known for the scores he has done for Disney animated features, because the music is such a noticeably important element in them.

For 'Treasure Planet' a retelling of the classic novel in an outer space setting, he knew a symphonic score that would remind the audience of the swashbuckling movies of old would best link together the outer space setting with the classic story.

A Disney animated feature is often five years in production, and the first step is to compose the main themes and demo them for a committee, after which the score and movie are developed together.

Newton-Howard says of writing for animated features, "You have to be shameless about writing funny music. You must resist overwriting in an animated movie. and do not hit everything with the music. I use subtle changes in the tonality for transitions."

James Newton-Howard is a good friend of other composers. He and Hans Zimmer exchanged libraries of samples from their own work and when something is used by the other, a royalty is paid.

Like almost all composers, James Newton-Howard hates coming on a job where there is already a temp score, and like many movie composers, he hates most of all temp scores made from his own music. Composers do not like to be hired to repeat themselves any more than they like being hired to copy someone else's music.

When you meet James Newton-Howard he very much fits his role of husband, father of two young sons, and owner of people-friendly a yellow labrador. He's a man you'd like for your neighbor, your colleague, and a composer of music for your movies.

JAMES NEWTON-HOWARD BIOGRAPHY
James Newton Howard was born on June 9, 1951. His grandmother was a classical violinist and concertmaster of the prestigious Pittsburgh Symphony during the 1930s and '40s, when women concertmasters were very rare indeed. She began giving her grandson James piano lessons when he was four.

James Newton Howard studied classical music, majoring in performance piano, at the USC School of Music, and at Santa Barbara's Music Academy of the West with Leon Fleischer and Reginald Stewart.

He particularly liked composing for strings which later gave him the chance to orchestrate and conduct recordings with the London Symphony.

Typically for a young American musician, James Newton-Howard was attracted to pop and rock and roll, in which he achieved significant success in association with such top names as Elton John, beginning in 1974 as John's keyboardist. He rejoined Elton John in 1986 as the conductor/orchestrator for 'Live in Australia' with the Melbourne Symphony.

James Newton-Howard has co-written and/or produced recordings, including those by Valerie Carter, Cher, Randy Newman, Rickie Lee Jones, Chaka Khan, Jude Cole and the Brothers Johnson. He has arranged music for Earth, Wind and Fire, Barbara Streisand, Dwight Twilly, and Bob Seger.

His first movie score was 'Head Office' in 1985 and he has been constantly writing scores every since. In 2002, he scored four major movies in four entirely different genre! His best known collaboration has been with Disney for whom he scored the animated features 'Treasure Planet', 'Atlantis' and 'Dinosaur'.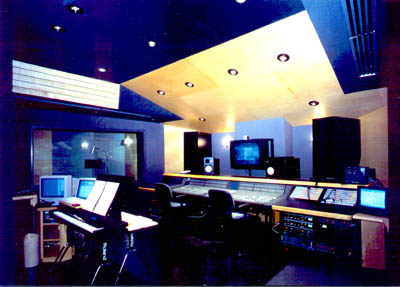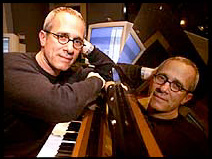 JAMES NEWTON-HOWARD FILMOGRAPHY AND AWARDS
\Dreamcatcher (2003)
Big Trouble (2002)
The Emperor's Club (2002)
Signs (2002)
Treasure Planet (2002)
Who Shot Victor Fox? (2002)
America's Sweethearts (2001)
Atlantis: The LostEmpire (2001)
Dinosaur (2000)
Gideon's Crossing (2000)
Unbreakable (2000)
Vertical Limit (2000)
Mumford (1999)
Runaway Bride (1999)
The Sixth Sense (1999)
Snow Falling on Cedars(1999)
Stir of Echoes (1999)
Wayward Son (1999)
A Perfect Murder (1998)
Dante's Peak (1997)
From the Earth to the Moon (1998)
Devil's Advocate (1997)
Fathers' Day (1997)
Liar Liar (1997)
My Best Friend's Wedding (1997)
The Postman (1997)
Eye for an Eye (1996)
The Juror (1996)
One Fine Day (1996)
Primal Fear (1996)
The Rich Man's Wife (1996)
The Sentinel (1996)
Space Jam (1996)
The Trigger Effect (1996)
French Kiss (1995)
Just Cause (1995)
Outbreak (1995)
Restoration (1995)
Waterworld (1995)
Intersection (1994)
Junior (1994),
Wyatt Earp (1994)
Alive (1993)
Dave (1993)
Falling Down (1993)
The Fugitive (1993)
The Saint of Fort Washington (1993)
American Heart (1992)
Diggstown (1992)
Glengarry Glen Ross (1992)
Night and the City (1992)
A Private Matter (1992)
Dying Young (1991)
Grand Canyon (1991)
Guilty by Suspicion (1991)
King Ralph (1991)
The Man in the Moon (1991)
My Girl (1991)
The Prince of Tides (1991)
3 Men and a Little Lady (1990)
Coupe de ville (1990)
Descending Angel (1990)
Flatliners (1990)
The Image (1990)
Marked for Death (1990)
Pretty Woman (1990)
Revealing Evidence: Stalking the Honolulu Strangler (1990)
Somebody Has to Shoot the Picture (1990)
Major League (1989)
The Package (1989)
Some Girls (1989)
Tap (1989)
Off Limits (1988)
Promised Land (1988)
Five Corners (1987)
8 Million Ways to Die (1986)
Head Office (1986)
Nobody's Fool (1986)
Tough Guys (1986)
Wildcats (1986).
NEWTON-HOWARD AWARDS
1997 Academy Awards - Nominee, Best Original Musical/Comedy Score - My Best Friend's Wedding
1996 Academy Awards - Nominee, Best Original Song - "For The First Time" from One Fine Day
1994 Academy Awards - Nominee, Best Original Song - "Look What Love Has Done To Me" from Junior
1993 Academy Awards - Nominee, Best Original Score - The Fugitive
1991 Academy Awards - Nominee, Best Original Score - The Prince of Tides
1996 Golden Globes - Nominee, Best Original Song - "For The First Time" from One Fine Day
1994 Golden Globes - Nominee, Best Original Song - "Look What Love Has Done To Me" from Junior
1994 Emmy Nominee - E.R. TV theme
1990 Emmy Winner - Score for the TV pilot, 'Men"
1990 Grammy Nominee - Dying Young score 2

copyright 2006 by D'Lynn Waldron