MARK ISHAM COMPOSER OF MUSIC FOR THE MOVIES: BIOGRAPHY, DISCUSSION OF HIS WORK, PHOTOS, FILMOGRAPHY by D'Lynn Waldron,PhD ©2004

You can visit Mark Isham's own Web Site with samples of his music, calendar and photos of his studio with his equipment http://www.isham.com
Photo: MARK ISHAM composer by D'Lynn Waldron ©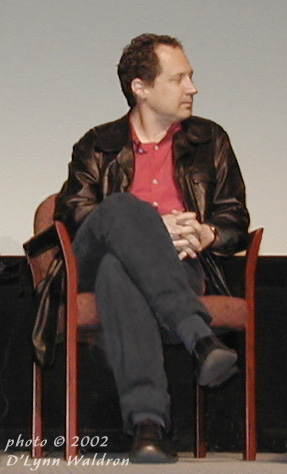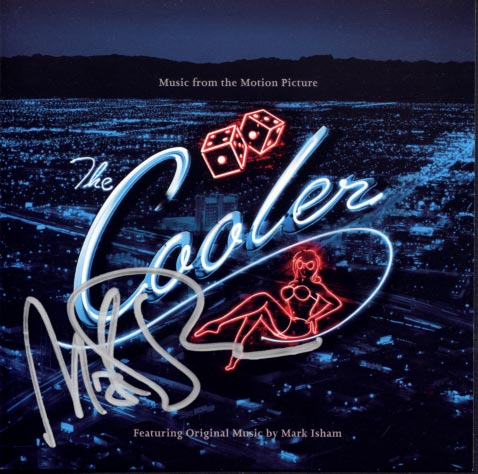 MARK ISHAM Biography

Mark Isham was born in New York and raised in San Francisco.

He is classically trained and for a time played trumpet in the San Francisco Opera orchestra, but then he redirected his career into blues and jazz, the music he loves best.

Isham and his band, Sons of Champlin, toured the world with The Beach Boys, Van Morrison and others.

In 1979, Isham formed Group 87 a progressive jazz ensemble and in 1983 began a parallel career as a soloist.

Through the 80s and early 90s, Isham did his group and solo work while developing a career as a movie music composer.

Isham has composed scores for many films which are listed in the filmography below, and he won a Grammy Award in 1990 for his solo album of non-film music.

Mark Isham now spends much of his time composing for the movies, rather than touring, so he can be at home with his family.

Isham incorporates his love of blues and jazz and his ability to play a number of instruments in his film scores, and he has recently released a solo jazz album 'Blue Sun', and a tribute album to legendary trumpeter Miles Davis 'Miles Remembered: The Silent Way Project'.
Mark Isham is currently working on the new Phillip Kaufman film 'Blackout'.
Isham is getting a real kick out of a gig doing remixes of recordings by Ella Fitzgerald, Peggy Lee, and Dinah Washington for a series of Revlon commercials that will feature such glamorous actresses as Halle Berry.
Isham has reincarnated his live band and is creating fresh new sounds which have been very favorably received. A road tour is being planned.
MARK ISHAM discusses his work as a movie composer by D'Lynn Waldron ©03
COMING SOON
MARK ISHAM FILMOGRAPHY
The Cooler (2002-released 2003)
Impostor (2002)
Moonlight Mile (2002)
Don't Say A Word (2001),
Hardball (2001)
Life as a House (2001)
The Majestic (2001)
Save the Last Dance (2001),
Men of Honor (2000)
Rules of Engagement (2000)
Trixie (2000)
Where The Money Is (2000)
At First Sight (1999)
Body Shots (1999)
Breakfast of Champions (1999)
Galapagos (1999)
October Sky (1999)
Varsity Blues (1999)
Blade (1998)
The Defenders: Choice of Evils (1998)
The Defenders: Payback (1998)
The Defenders: Taking the First (1998)
Free Money (1998)
From the Earth to the Moon (1998)
The Gingerbread Man (1998)
Afterglow (1997)
The Education of Little Tree (1997)
Kiss the Girls (1997)
Night Falls on Manhattan (1997)
EZ Streets (1996)
Fly Away Home (1996)
Gotti (1996)
Last Dance (1996)
Home for the Holidays (1995)
Losing Isaiah (1995)
Miami Rhapsody (1995)
The Net (1995)
The Browning Version (1994)
Chicago Hope (1994)
The Getaway (1994)
Mrs. Parker and the Vicious Circle (1994)
Nell (1994)
Quiz Show (1994)
Safe Passage (1994)
Thumbelina (1994)
Timecop (1994)
Fire in the Sky (1993)
Made in America (1993)
Nowhere to Run (1993)
Romeo Is Bleeding (1993)
Short Cuts (1993)
Cool World (1992)
Of Mice and Men (1992)
The Public Eye (1992)
A River Runs Through It (1992)
Sketch Artist (1992)
Billy Bathgate (1991)
Crooked Hearts (1991)
Little Man Tate (1991)
A Midnight Clear (1991),
Mortal Thoughts (1991)
Point Break (1991)
Everybody Wins (1990)
Love at Large (1990),
Reversal of Fortune (1990)
The Beast (1988)
The Moderns (1988)
Tibet (1988)
Made in Heaven (1987)
The Hitcher (1986)
Trouble in Mind (1985)
Mrs. Soffel (1984)
The Times of Harvey Milk (1984)
Never Cry Wolf (1983).

MARK ISHAM AWARDS
1992 Academy Awards - Nominee, Best Original Score - A River Runs Through It
1994 Golden Globes - Nominee, Best Original Score - Nell

copyright 2006 by D'Lynn Waldron