HOWARD SHORE COMPOSER OF MUSIC FOR THE MOVIES: BIOGRAPHY, PHOTOS, FILMOGRAPHY AND DISCOGRAPHY by D'Lynn Waldron,PhD ©2006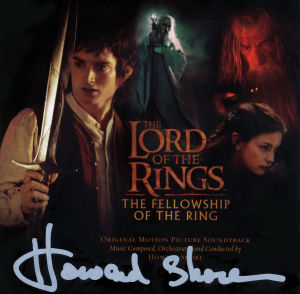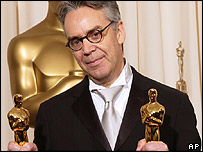 A PERSONAL REFLECTION ON HOWARD SHORE by D'Lynn Waldron,PhD.
Howard Shore won three Oscars for his monumental Lord of the Rings music, into which he put his lifetime of musical preparation, and the childlike imagination he has never lost,

Howard Shore starts a composition as an improvisation that comes from the unconscious. Then over a period of days, he shapes, refines and develops the composition in linear steps into an orchestrated piece of music.

Because Shore knows the value of what has been created through inspiration, he considers everything he has ever done as resource to be drawn upon, even compositions he did at 13, and the skits he did at summer camp for their Saturday shows eventually grew into the creation of Saturday Night Live.

Shore is classically trained and says he is constantly learning because curiosity keeps the creative juices flowing. He says there is no end to what one can learn about music and the more one knows the more resources one has to work with.

Shore is also constantly developing the scope of his work. He brought his knowledge of opera as a musical form to The Lord of the Rings trilogy, which allowed him to work with a full symphony orchestra, an adult chorus, a boy's choir and soloists- 200 people in all. Shore found this so musically empowering that he now wants to write operas because that is the only form in which he can have those resources on a regular basis.

For relaxation Shore writes chamber music for small groups, where he can feel in full control.

Shore was one of the earliest adopters of electronic technology for music, loves computers and enjoys manipulating sounds. However, for Shore, actual composing is only when he's writing with pencil on paper and a day when he hasn't put pencil to paper is a day on which he considers he hasn't composed.

Howard Shore was born in Toronto on October 18th 1946.

Shore's multiple talents gave him the choice of being a writer, actor, or musician, and he chose music.

When he was very young Shore had a band ccalled Lighthouse that did over 1000 performances in four years on the road as the opening for such icons of that era as Jimmy Henrichs, Jannis Joplin and Jefferson Airplane.

While still young, Shore worked as a composer in television. Along with that, Shore and a small group of his friends created Saturday Night Live for which they would get together every Monday to decide what each could contribute to that week's show. Shore was the musical director and played the saxophone.

Shore's television assigments required him to compose very quickly for many different genre of shows. This prepared Shore to handle any film genre, and he has very successfully composed for comedy (Big), drama (Philadelphia), thriller (Silence of the Lambs), Sci Fi (The Cell), teen (Crash), romance (Prelude to a Kiss), Shakespeare (Looking For Richard), crime (The Score), and fantasy (Lord of the Rings).

Howard Shore began composing for the movies in 1978, but he still lives in New York where there is a group of movie composers who have a real camaraderie reminiscent of the old studio days.

Shore puts his films into two categories; low budget "guerrilla" movies, like those he has done with innovative director David Cronenberg (who he still looks to as an 'older brother' for guidance), and big budget productions like Lord of the Rings. The difference between them is how much he can spend on musicians.

For low budget movies, Shore will use loops and samples from the recording sessions to create additional cues. For a really big budget movie he has the luxury of recording a suite that he has created especially for the CD.

In composing his movie scores, Shore starts with an emotional response to the film; if he doesn't have that, or he doesn't feel the subject is appealing, he passes on the project.

Shore begins a film score by determining the idea of the film and then he jots notes about how to instrumentalize it.

For each film Shore selects the musical form and instruments that will suit it best. For Lord of the Rings it was essentially opera.

Shore believes the opening titles should take the audience into the world of the film, so for Ed Wood, Shore went back to that old thrillers' instrument the Thermion, and found in Moscow the right person to play it.

In the Lord of the Rings trilogy, for each of the cultures in Tolkein's Middle Earth, Shore used a different combination of instruments, some of them non-Western. He wanted his music to convey what Tolkein felt about each culture.

The words to the songs were carefully researched to be true to Tolkein and a special scholar was brought in to teach the singers how to pronounce them.

The Lord of the Rings trilogy meant doing in a year musically what took Tolkein 12 years to do in his book. Shore had to create music for nine hours in the theatre and 12 hours on the DVD

Shore felt an enormous responsibility to be faithful to Tolkein, and he kept the book beside him all the time and was continually studying and researching while he was composing.

Lord of the Rings trilogy was such a huge project and daunting responsibility that there were "dark days" when Shore felt overwhelmed.

When the Two Towers was being edited, there were times when Shore had to go from notes on paper for a cue, to a score played by the London Symphony and 'fat piped' to New Zealand to be edited into the film, all in a few days.!

Shore says he was supported in making Lord of the Rings because it was like being part of a family that sits around the kitchen table in the evenings to discuss ideas and work out problems.

Shore says that composing Tolkein's Lord of the Rings opened up things in himself he wasn't aware of.

SHORE CONDUCTS THE LONDON PHIL IN A SOLD-OUT ROYAL FESTIVAL HALL
In May 2004, Howard Shore conducted the London Philharmonic in his Lord of the Rings music at the Royal Festival Hall, before a sell-out audience of more than 3000 people. This was such a success that it will have a repeat performance in September.

Timothy Walker, artistic director of the LPO, said the concert was an example of how the orchestra was finding new audiences. "We have to do great symphonic repertoire. But film music is a great part of our musical life. We are funded by the taxpayer and we have a duty to appeal to as wide an audience as possible."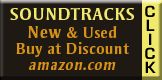 HOWARD SHORE FILMOGRAPHY
The Lord of the Rings: The Return of the King (2003)
The Lord of the Rings: The Two Towers (2002)
Panic Room (2002)
Spider (2002)
The Lord of the Rings: The Fellowship of the Ring (2001)
The Score (2001)
Camera (2000)
The Cell (2000)
Esther Kahn (2000)
High Fidelity (2000)
The Yards (2000)
Analyze This (1999)
Dogma (1999)
Existenz (1999)
Gloria (1999)
Cop Land (1997)
The Game (1997)
That Thing You Do! (1996)
Crash (1996)
Looking for Richard (1996)
Striptease (1996)
The Truth About Cats & Dogs (1996)
Before and After (1996)
White Man's Burden (1995)
Moonlight and Valentino (1995)
Seven (1995)
Ed Wood (1994)
The Client (1994)
Nobody's Fool (1994)
M. Butterfly (1993)
Sliver (1993)
Guilty as Sin (1993)
Mrs. Doubtfire (1993)
Philadelphia (1993)
Single White Female (1992)
Prelude to a Kiss (1992)
A Kiss Before Dying (1991)
The Silence of the Lambs (1991)
Naked Lunch (1991)
The Lemon Sisters (1990)
Made in Milan (1990)
An Innocent Man (1989)
The Local Stigmatic (1989)
She-Devil (1989)
Signs of Life (1989)
Big (1988)
Dead Ringers (1988)
Nadine (1987)
Heaven (1987)
The Fly (1986)
Fire with Fire (1986)
After Hours (1985)
Nothing Lasts Forever (1984)
Videodrome (1983)
Scanners (1980)
The Brood (1979)
I Miss You Hugs and Kisses (1978).

HOWARD SHORE AWARDS AWARDS
2003 Academy Awards: Oscar for Best Original Score - The Lord of the Rings: Return of the King
2003 Academy Awards: Oscar for Best Original Song - "Into the West" from The Lord of the Rings: Return of the King
2001 Academy Awards: Oscar for Best Original Score - The Lord of the Rings: The Fellowship of the Ring
2001 Golden Globes: Nominee, Best Original Score - The Lord of the Rings: The Fellowship of the Ring

copyright 2006 by D'Lynn Waldron