GETTY MUSEUM IN MALIBU
SHOWN AS IT ORIGINALLY LOOKED WHEN IT WAS OPENED, IN PHOTOGRAPHS TAKEN FOR MR. GETTY By D'LYNN WALDRON©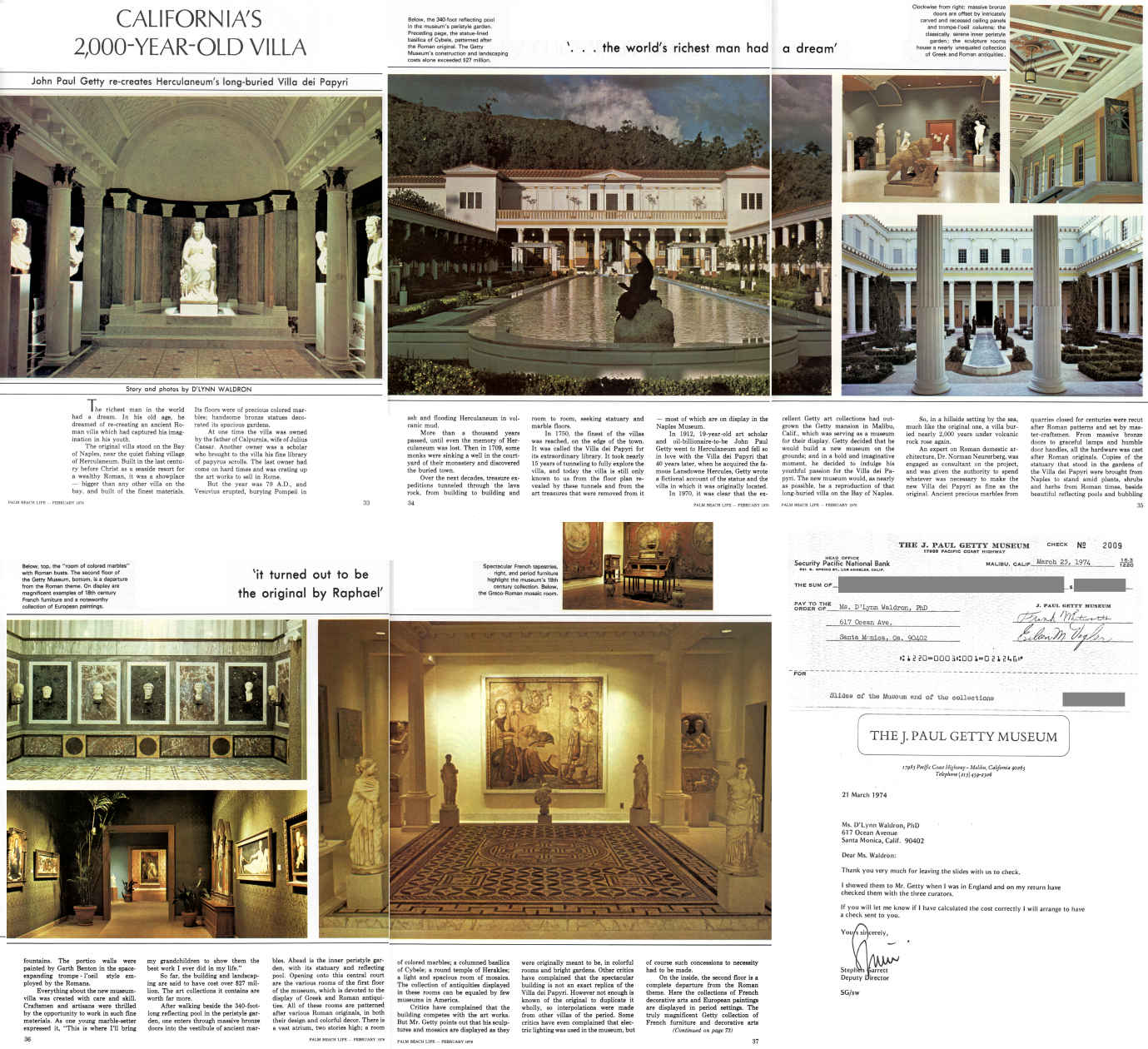 THE GETTY MUSEUM IN MALIBU AS IT ORIGINALLY LOOKED WHEN IT WAS OPENED,
IN PHOTOGRAPHS TAKEN FOR MR. GETTY BY DR. D'LYNN WALDRON
Photographs of Getty Museum in Malibu taken for J. Paul Getty by D'Lynn Waldron, PhD, were used in one of the many articles by D'Lynn Waldron that were published around the world. Along with photographing the rooms, and large pieces of art, D'Lynn Waldron had the keys to all the exhibit cases and took out and photographed each of the small items, such as the collection of little bronze Hercules statuettes, which were a particular favorite of Mr. Getty's.
D'Lynn Waldron has the only extant set of photographs of the Getty Museum in Malibu as it was originally intended to look, with each room designed to display specific works of art. All this was changed shortly after Mr. Getty's death in 1976, and his and the museum's sets of D'Lynn Waldron's slides were subsequently lost.
In an amusing aside, when D'Lynn Waldron assembled the carousel of slides to be taken to Mr. Getty, she slipped in slides of Mr. Getty's animals, including the buffalo and the sun bear, that were in his personal little zoo up behind the museum. Mr. Getty had not seen his animals in many years and was more excited by those pictures than any other part of slide show. Mr. Getty died in England without ever seeing his life's dream of a museum in the form of a Roman Villa realized, except in the photographs.