D'Lynn Waldron's first book "Further than at Home" copyright 1957-58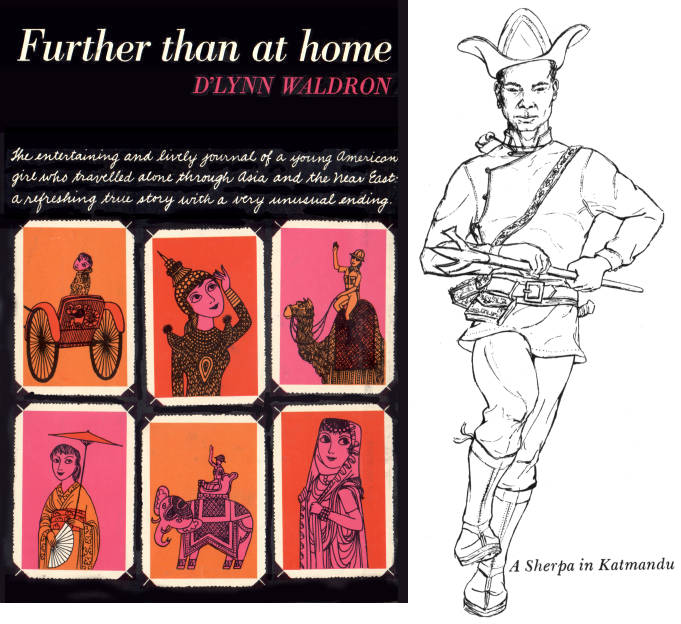 D'Lynn's first book was published as Further than at Home in America and Far from Home in Britain and the Commonwealth.

In the mid-1950's, it was very unusual for a young woman to travel alone for adventures in remote areas of the world. Several publishers were interested in making a book of her articles illustrated with her fine-line pen and ink drawings and watercolors, which had been published while she was on her journey around the world.

D'Lynn chose to accept the offer of Harper Books' legendary Cass Canfield. The dust jacket art for the book (seen above) is by Alex Tsao, Harper's top designer and the book was printed by the press which did David Douglas Duncan's Picasso books.

After Further than at Home was published, Oscar Hammerstein began working on the possibility of turning it into a Rogers and Hammerstein musical. Twentieth Century Fox started to develop the book for a movie, but that would have given the movie studio a hold on any Rogers and Hammerstein musical, and D'Lynn's agent stopped the studio project. While at the studio, D'Lynn did some work on the treatment for Han Su-yin's book The Mountain is Young as a project for Marlon Brando, and was there at the time of Kruschev's historic visit.
Oscar Hammerstein's last musical Sound of Music opened on Broadway November 16th, 1959 and he died nine months later in August 1960, ending the possibility of a musical of D'Lynn's book..

In the summer of 1959, Life Magazine's editor-in-chief Ralph Graves wanted to do a cover story about D'Lynn with a cover portrait by Phillipe Halsman and text by Ernest Havmann, Life's two top people. The photographs to go inside the magazine had already been taken by Life. However D'Lynn's life had a taken on international political implications and she wanted to avoid all publicity.

D'Lynn turned down the Life cover story and within a few months she started an overland journey hitch-hiking through the heart of Africa, where her articles for Scripps-Howard newspapers scooped the world on some of the most important political events in the history of that continent, which still have repercussions today.