EISENHOWER'S PERSONAL DC3 ROTTING AT SANTA MONICA AIRPORT
MUSEUM OF FLYING IN SANTA MONICA WAS CLOSED OVER DOUGLAS PROTESTS All materials copyright by D'Lynn Waldron. See clipping.
CLICK ON THE THUMBNAILS AT BOTTOM TO ENGLARGE TO OTHER FULL SIZE, FULL FRAME IMAGES
CLICK FOR 50TH ANIVERSARY OF DC 3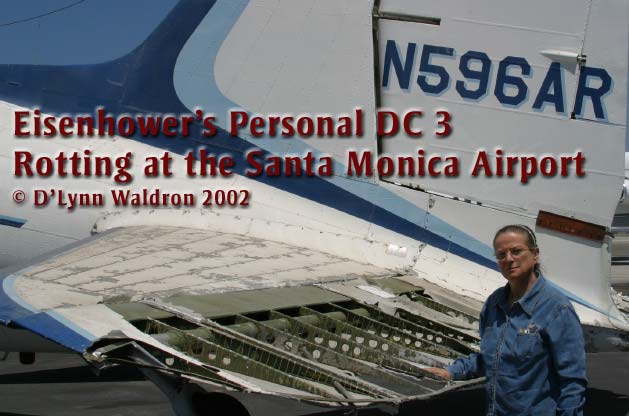 Alex S. Gaston has written that contrary to what the plaque in front of this DC 3 said (upon which I based my caption) N596AR was not Eisenhower's personal plane, but it was the plane of Alex's grandfather Chas. S. Jones, whose name is still on the nose of the plane.
Chas. S. Jones was CEO and Chairman of the Board of The Atlantic Richfield Corp. The presidential seal is on the plane because Eisenhower, who was a close personal friend of Mr. & Mrs. Jones, flew to their house in Baja California on the plane. The flags were put on the plane when ARCO took it overseas.
Alex says that the plane was kept in excellent condition by ARCO after his grandfather's death. Then, in the mid-1980's, ARCO gave the plane to David Price for the Santa Monica Museum of Flying at the airfield where the plane was built.
Alex says the present decayed condition of the plane happened after it was given to the Museum of Flying. He has also heard that the period, luxury interior, which was chosen by his grandmother, has been stripped out and put in another DC3.
Alex says he told the museum that the plaque in front of the plane was wrong and explained the history of the plane, but the plaque was not changed and the photos he gave the museum of the plane in another paint scheme were never displayed.
Alex Gaston
gastone@earthlink.net
-----------------------------------
Mark Beaumont did this digital model of the N596AR for his flight simulator, based on a full set of photos D'Lynn sent to him. Mark: info@paxship.com.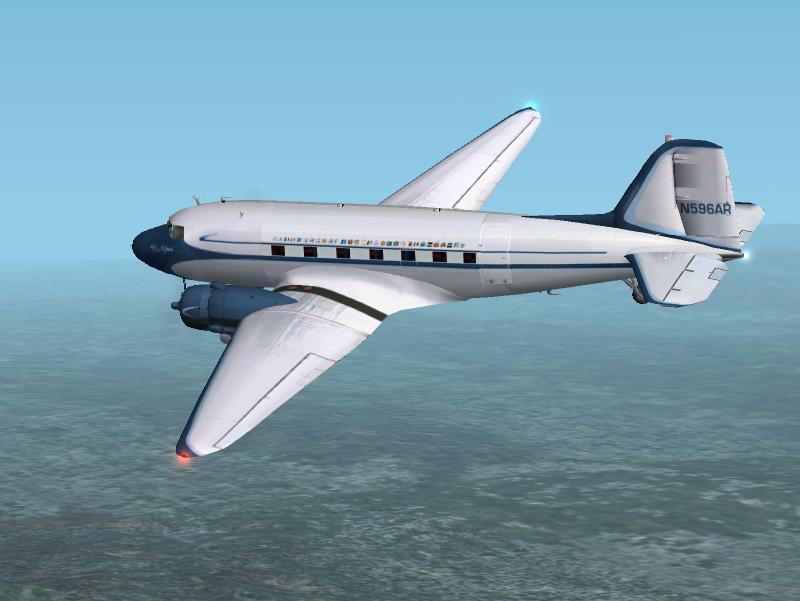 Mural with a DC 3 at the Grant School in Santa Monica.