At McDonnell-Douglas celebration broadcast for the 50th Anniversary of the DC3 (Dakota) Dr. D'Lynn Waldron was Keynote Speaker and MC. ©2017
Click for article on Douglas Museum of Flying in Santa Monica being closed over protests
Click for a gallery of photos taken in the Douglas Museum of Flying
Click Fredsflygarna FN-flyget i Kongo 1960-1964 - Lief Hellstrom
book in Swedish on th role of Sweden and the aircraft with the UN Operation in the Congo 1960-1964, including the DC3-C47
NOTE: Sully Sullenberger's early days flying 'tail draggers' (which the DC3 is) gave him the skill to stall his plane down on the Hudson River, so it settled down on its belly rather than tip nose-down into the water, be torn apart and sink, as would have hsppened if that plane were landed in the normal 'drive down' method for that modern plane, rather than settling down in a stall onto the water.
Scroll down to see more photos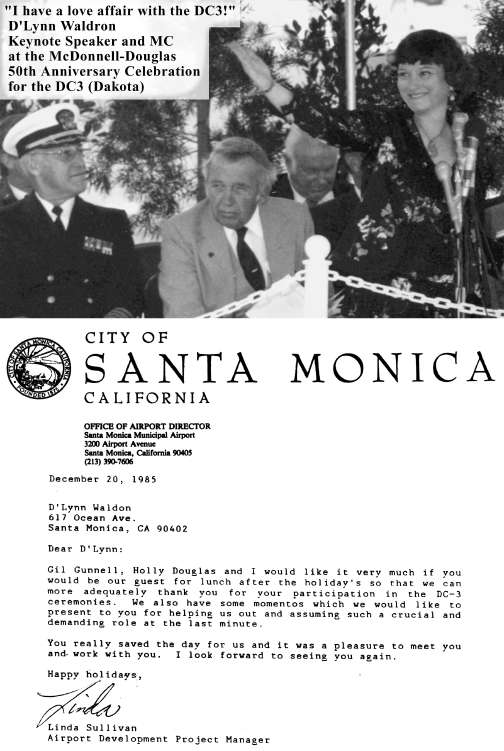 CLICK TO READ THE SPEECH BY D'LYNN WALDRON AT THE 50TH ANNIVERSARY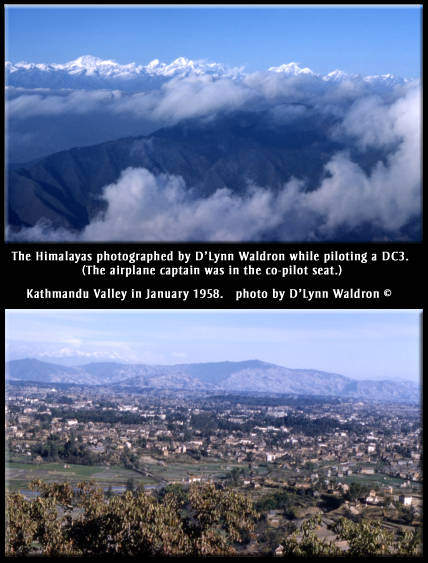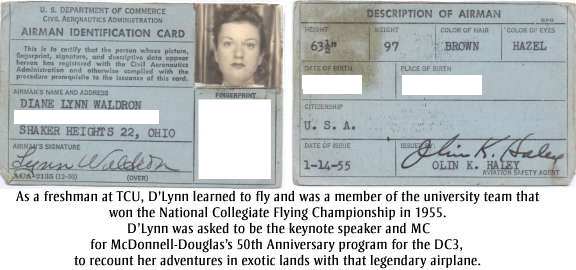 1200 DC3s are still flying today including two on twice daily cargo service to Catalina Island.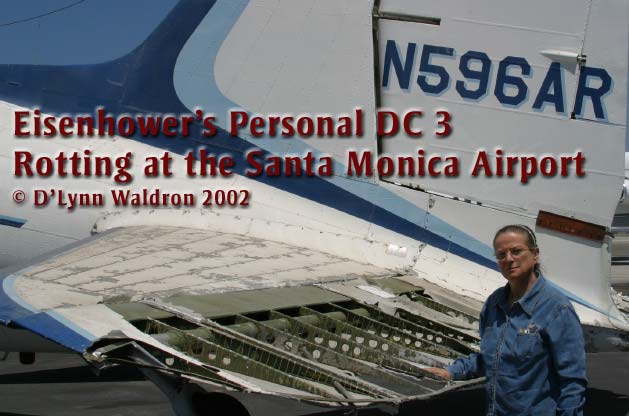 Above: The DC3 once used by President Eisenhower rotting away at the Santa Monica Airport, 2002.
Below: The DC3 restored to be made a permanent exhibit, 2005.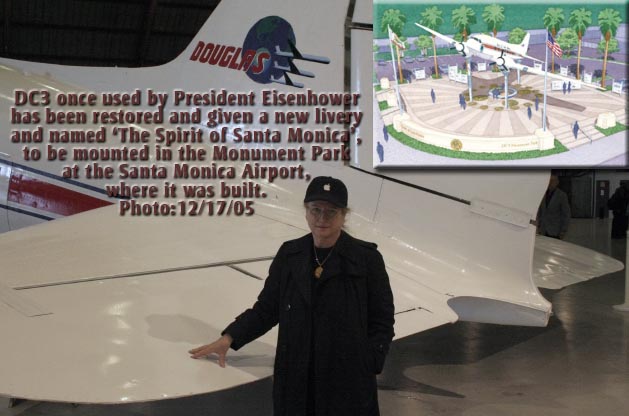 CLICK FOR GALLEY OF PHOTOS OF THE GROUND BREAKING CELEBRATION
FROM THE SANTA MONICA MIRROR:
http://www.smmirror.com/MainPages/DisplayArticleDetails.asp?eid=2091
http://www.smmirror.com/MainPages/DisplayArticleDetails.asp?eid=2111

To commemorate the 70th anniversary of the first flight of Douglas Aircraft's most enduring airplane, DC3, and break ground for the "Spirit of Santa Monica" Park, whose centerpiece will be a DC3, the Museum of Flying and the plane's restoration team will hold a '40s theme party on Saturday, December 17 at the Santa Monica Airport.

The groundbreaking for the park will take place at 1:45 p.m. at the Donald Douglas Plaza, Airport Avenue and Donald Douglas Loop South on the south side of Santa Monica Airport. A formation flyover of seven DC3s will take place during the groundbreaking.

After the flyover, the seven DC3s will land at the airport and park near Barker Hangar, the site of the party, and a display of World War II equipment and planes, including the restored DC-3, which has been dubbed "The Spirit of Santa Monica."

A USO style holiday party in the hangar with entertainment and dancing to a big band, Gregg Elliott orchestra, will get underway at 3 p.m. The program will include comments by actor Cliff Robertson and astronaut Buzz Aldrin.

Seats will be auctioned off on a special sunset flight in "The Rose" a DC-3 aircraft.

David Price of the Museum of Flying donated the DC3 and $50,000 toward the cost of its restoration. The party will also kick off a sponsorship and donation campaign for development of "The Spirit of Santa Monica" Monument Park.

The Spirit of Santa Monica first took flight from Santa Monica in February, 1942. After a short run as a commercial airliner, it served both the Army and Navy in World War II. After the war, it returned to service as an airline and then went into corporate service.

In the last two years, volunteers have spent more than 3000 weekend hours to rebuild, repair, scrape, prime and paint the "Spirit."
DC 3 INSTALLED IN MOMUMENT- Santa Monica Mirror Feb 12, 2009
Douglas was once headquartered at Clover Field, where the many of the approximate 11,000 DC 3's were built between the 1930s-40s. The DC 3 plane that will be the centerpiece for the "Spirit of Santa Monica" at the Douglas DC 3 Monument, and the new Museum of Flying, was lifted onto the concrete columns on Tuesday, February 10. The plane weighs over 18,000 pounds. A ceremony for the opening of the DC 3 Monument will happen in late March. Kristina Andresen is the architect for the "Spirit of Santa Monica" monument park. photo by Digitallightphotography.com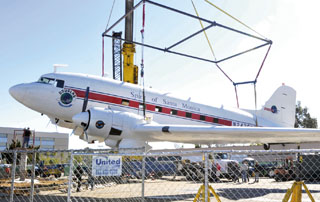 DC3 Computer simulation (below)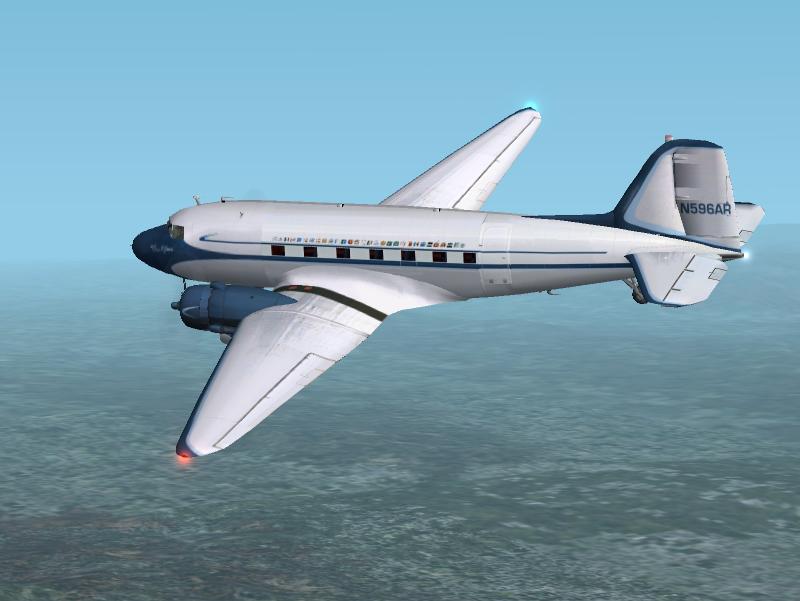 Digital recreation of the DC3 once used by President Eisenhower for MS Flight Simulator by Mark Beaumont mark@paxship.com